Overall show rating: B
I've been a fan of The Killers for a few years, and more than a little annoyed during all of that time that I never could manage to get to one of their concerts. Granted I'd heard mixed things about the quality of the show they put on, so perhaps it wasn't the worst thing in the world that it took until the Day and Age tour for me to see them live.
Last night I made my way over to the Susquehanna Bank Center (still the E-Center in my head…just how many name changes has this place been through?) via the ferry from Philadelphia. I'm always wary of this place because the sound can absolutely suck if you're not sitting in a good location, and the mix for opening band Chairlift didn't leave me too hopeful. I don't think I understood a single word Caroline Polachek sang the whole set (except during one 80s cover song which I knew the words to already, though damned if I can remember now what song it was). With her trying to sound like a cross between Bjork and Dolores O'Riordan and a very awkward stage presence to boot (if you could call it a presence at all), I found them boring and too '80s-wannabe without much of anything new to say–which is what I liked about The Killers in the first place, that they took those 80s sounds and influences yet still made music that was fresh and modern.
But enough about the opening act. After a mind-bogglingly long set changeover (something like 50 minutes with my only entertainment the young lovers next to me having a huge spat over who did or didn't text whom the night before), The Killers took the stage at 9:30. From my sixth row seat behind the pit, I had a decent enough view of the band and the stage, save for what was blocked by the tall dude in front of me. Good thing he kept leaving to get more to drink, or was often hunched down to hide the joint he was smoking. The band ran through a tight set, effectively mixing up songs from Day and Age, Sam's Town, and Hot Fuss with one track from Sawdust as well: their great cover of "Shadowplay", of which I managed to shoot some video. Ronnie seemed to be having some snare troubles at the time, but still managed to get it all together for the end of the track.
A friend had told me I'd get a kick out of watching Ronnie play, and she was right. He and of course Brandon are really the "stars" of the band on stage, while Dave and Mark mostly hung back at their respective sides, playing well but not doing much else. What is it with me and bands that have highly charismatic frontmen and drummers? I don't know. Even the gossip press have tried to make it sound like Brandon and Ronnie are another Sting and Stewart, complete with nasty fights and feuds on and off stage, but who's to know for sure? All I'll say is basically they were the two that held my attention all night, though mostly independently. I noticed that there was basically no interaction between the band members on-stage the entire night, each of them very much doing their own thing. I think that might have been one element that kept me from being wholly engaged with their performance, as they didn't seem especially engaged with each other on stage.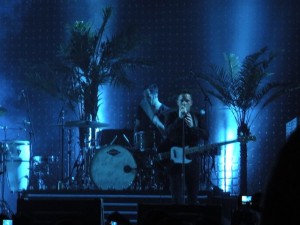 Brandon basically sticks to the songs to connect with the audience–there was very little between-song banter from him, but his theatrics, especially geared to the front of the audience in the pit, kept the crowd dancing and singing along throughout the show. At least the big hits, of course. There were plenty of folks around me who clearly only knew their popular tunes, and didn't even seem to recognize "Jenny Was a Friend of Mine" despite the rousing version of it played during the encore.
Brandon's voice sounded good, if a little…high and thin compared to the way it sounds on record? Along with the great "Jenny", highlights for me were "Change Your Mind", "For Reasons Unknown", "Mr. Brightside", "All These Things I've Done", and "Spaceman". The only real disappointments were the somewhat changed-up/slowed-down version of "Smile Like You Mean It" (the only song that really varied from the recorded version, and not in an especially great way) and the finale of "When You Were Young". WYWY is one of my absolute favorites of theirs, yet for whatever reason, it just didn't pack a big punch at the end for me and seemed a bit anti-climactic.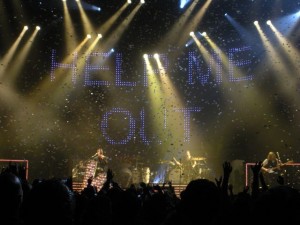 The show was over a little before 11pm, at which point I made the mad dash to stand in the endless line for the ferry back across to Philly. Despite not loving the venue, I always find this ride home a nice end to a show – the cool breeze off the water and the night skyline of the city in the distance is a great way to chill out for a little while. The young kid on his cell phone next to me was from out of town and seemed to be having an interesting conversation with his girlfriend on the ride.
"Yeah, I'm on a boat…we just passed some kind of warship in the middle of the river…it smells like fish…I wish you were here."
Now it's the day after and I'm glad I got the chance to knock another band off my "want to see someday" list, although I'm not sure if The Killers are a group I'll have to make a point to see again in the future.